2014 Seasons Highlights
03/11/14

Blogging had to be dropped down the priorities this year because we were so busy. There've been hundreds of outings led by a total of 15 excellent guides who have been a pleasure to work with. Rough estimates of the 2 main outings currently lie at 24 successful Ridge Traverses and over 200 clients up the In Pinn!
Regular John Seal solo on the In Pinn.
Many thanks to all of our guests this season who chose to visit Skye and let us show you some of our wonderful island; our job is always made that much easier with such a dramatic and beautiful environment.Thank you for the positive feedback as well which is always passed on but I'm sure you'll join me in thanking all of the guides that helped make so many dreams come true- Francis, Gillian, Rich, Scott, Guy, Mike T, Jonny, Lou, Ian, Iain, Jamie, Tamsin, Dave & Murdoch.
Rich & Gillian lead the dancing at Bunchrew House Hotel.
Congratulations to Gillian & Rich on tying the knot (boom boom). It was a great celebration and a few folk suggested quite possibly the biggest ever social gathering of Scottish mountain guides and instructors. Also in June, Scott Kirkhope and his partner Gillian were blessed with the birth of Gracie. A list of climbing congratulations for the guiding team, with their trips to Yosemite, alps and in Antarctica, actually just makes me green with envy. Suffice to say your guides are taking their "research" and "training" very seriously.
I've put up a gallery of the best shots and some to remind me of my own highlights in years to come (its the only way I can remember). Sweetest of them all was the completion of the classic Alpine trilogy with my good friend Bill. Back when he was a youngster (60yo) we'd tackled the Matterhorn, 5 years later his lifelong ambition of the Eiger (65yo) and this year we spent 3 days completing the hardest of the all, a Cuillin Ridge Traverse. Mixed in with some dry rock were bursts of heavy rain on each day. Not many would have completed in the conditions we had, let alone raved about the pleasures of bivvying in soaking sleeping bags. At 75 years old Bill is the oldest person I know of to have succeeded and I can't wait to see what he fancies for his 80th;-)
Bill in action on his Traverse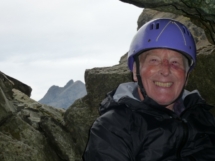 And in bivvy cave number 2.