Ski Touring; Pic d'Artsinol 10th Jan
10/01/13
I've only ever skied a handful of days but today had my first go at ski-touring. We were joined by Janine, Graham's wife and member of the British ski-mountaineering team.
Chuffed not to have either wiped out or fallen off a lift I put the skins onto the skis at 2600m for the final rise to the Pic d'Artsinol, 2997m.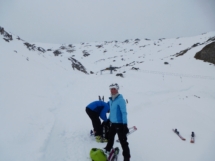 This 1000ft probably took me about an hour.
I'm sure the others would have halved that but some good simple instruction from them saw me right and positively enjoy myself by the top.
Far more worrying was the descent; I've never been off the pistes (as many of you will testify to; ha ha ) and deep snow with a thin crust looked like a good way to screw my knees. I was fully prepared to carry the skis down & wade through the deep snow but, despite wiping out a few times, had to agree that skiing down was quicker & easier.
Back on the pistes things suddenly seemed very easy and there was plenty of professional advice knocking around to help me feel almost competent by the bottom. 5000ft of skiing, nothing broken but definitely tired!