Rock-fest, 9-16th August
17/08/12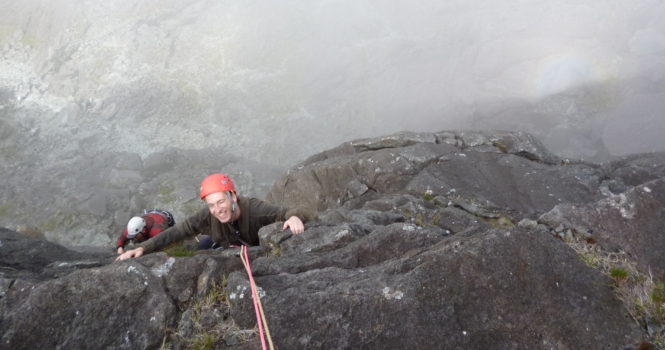 After a couple of weeks holiday it has been an absolute pleasure to come back to work this last week. I've been fortunate enough to have 8 consecutive days of rock climbing.
Forgot the camera on the first day out but Dave & I had a great day approaching via Cioch Slab to the foot of the intimidating sounding Crack of Double Doom (VS 4c). I'd forgotten how fine the main pitch is; 50m of continuously testng moves and all well protected.
Next day was Direct Route on Eastern Buttress (Severe) with Ant & Paul; again a route that I'd forgotten how good it was with 9 pitches of superb rock & plenty of challenge.
We went to Neist next day with the guys doing their first leads after some intense practice in gear placements and setting up belays.
Next day the guys were tested and passed with flying colours as they led themselves up all 6 pitches of Window Buttress (V Diff)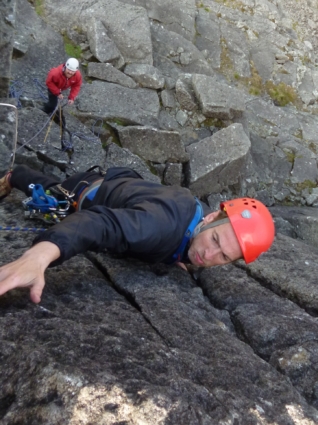 Back at Neist next day with Tom, Susan & daughter Lisa who showed her folks how it was done with fine ascents of (Severe) and Tatties (Severe).
To be fair Tom & Susan did superbly as well and were particularly happy with the short session of ropework for scrambling that we squeezed in.
Tuesday was a sun-fest at Kilt where Victoria, Elise & I climbed the Rpmper (Severe), Secret Service (VS, 5a)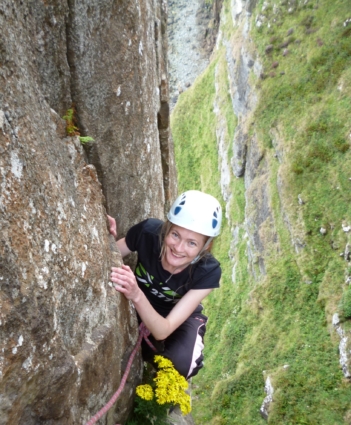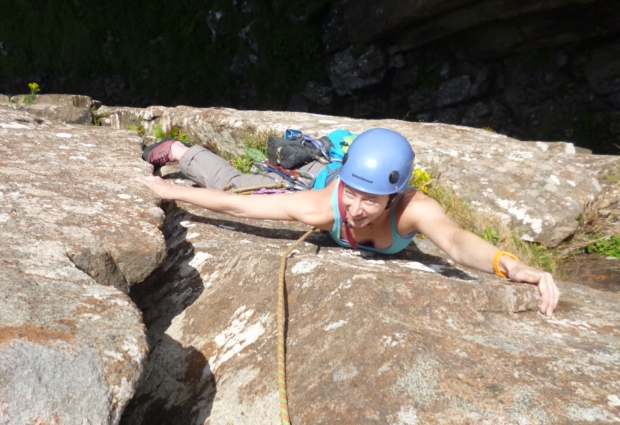 and then Elise & I climbed Jamboree
(VS 4c in the book but HVS 5a at least)
Next day we had John Doughty for company whose first trip to the Cuillin was over 50 years ago! He gave me the brief of a long open slabby route.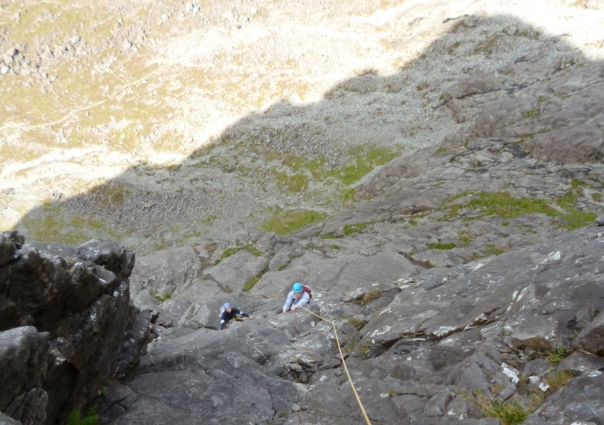 Central Route starting by Mallory's Slab & Groove takes on the full thousand foot height of the huge Western Buttress. We indulged in 10 pitches of "just what the doctor ordered" on a very full day out
On Thursday Icky, Elise and I decided to climb the route on the cover of the new Sea-Cliffs & Outcrops guidebook, Man of Straw at Neist. The setting by the swelling seas was superb and the route excellent to match; worthy of 3 stars in my opinion with moves and protection that make you think all route with superb moves in a stunning position.
Long may the summer last!!