Cascade des Ignes. 9th January
09/01/13
I used snow shoes for the first time today to approach the magnificent Cascade des Ignes above Arolla. A couple of hours of this certainly did my fitness the world of good!
Ice plays games with the head in terms of steepness and Graham assured me it wasn't as steep as yesterdays routes but close acquaintance didn't appear to back this up.
Having taken fashion advice from his Cioch Direct clad guru Graham today wore a bright blue Montane jacket set off nicely by a bold orange Black Diamond helmet. (Sponsors please apply direct 🙂 
The ice was mostly excellent but powder snow poured down the climb almost constantly to create a very Scottish feel.
Some filing of my new axe picks helped get them both in and out far more easily today and I felt a whole lot more at home leading the 2nd pitch.
Beyond the 3rd pitch the gully opened out and G did a fine job of breaking trail up 150m of knee-deep snow to reach the plateau above.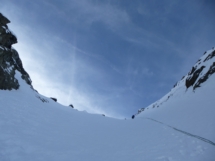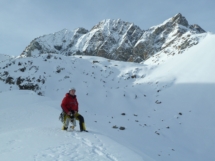 The views rewarded our efforts hansomely.