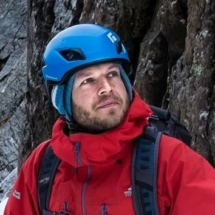 Ollie joined the team in 2015 and has now moved up to Gairloch so is virtually a local!
"My first experience of the Cuillin on Skye was with friends from university attempting a Traverse in a day. I was over-confident, young and excited. Skye left its mark many hours later when we headed down having been intimidated by Naismith's Route on Am Basteir. Strung out and dehydrated it was too much for me at the time and left me wanting to come back and learn about this amazing mountain range on an island of the coast of Scotland. Since then I've climbed all over the world including new routeing in Chile, Morocco and Greenland as well as having lots of adventures in the UK. My heart never left the north west coast of Scotland though and I've recently made this little corner of paradise home for me and my family."
Climbing favourites-
Trad – Left Wall, the climbing felt so smooth and free that day.
New Routing – Greenland, the adventure of not knowing what was ahead
Winter – Point 5 Gully, unexpectedly having a route I'd dreamed about to ourselves in perfect conditions.
Alpine – Langkofel and south face of the Meije as I had great company on both.
Skye – the jagged mountain tops poking through the mist giving a sense of anticipation for the adventure to come. My favourite summit being Sgurr nan Gillian.
Other
Books – Fantasy and Sci Fi. I'm currently reading the Witcher series.
Music – a bit of everything especially electronic folk such as Martyn Bennett
Food – Proper Sunday roast followed by apple crumble
Whisky – Dalwhinnie 15yr Old