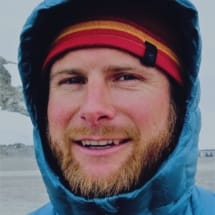 We are glad to welcome Tom back again this season with his huge smile and all the enthusiasm and passion that brings to our guests.
He's been coming to the Cuillin regularly since 2005 including 4 seasons working on Skye in more recent years.
He's been working in the industry for most of his adult life both home and abroad including ski instruction in Japan, leading expeditions to the Greater Ranges and working as a Field Guide for the British Antarctic Survey.
Fav climbs: South Ridge Direct (Arran); Gogarth (Gogarth); Super Direct (Llanberis Pass)
Scottish winter: Tower Ridge (Ben Nevis); The Message (Cairngorms); The Curtain (Ben Nevis)
Ski tours: Greenland ski traverse, Haute Route (European Alps); NW Face on the Gran Paradiso into a ski down the voie normal (Italian Alps)
Food: Pasta Pesto (green)
Other interests: Ski touring, juggling