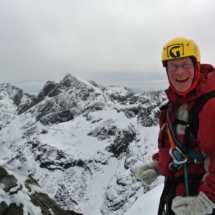 Mike Lates is the owner and director of Skye Guides, started guiding on Skye in the 1995 and has developed a reputation for providing Cuillin outings of the highest quality. He is as enthusiastic now as he ever was and passes this on to his guides and clients alike.
Mike is author of "Skye, The Cuillin" the SMC's definitive guidebook to these world class mountains.  With over 100 colour photographs showing approach routes and climbs it covers all aspects of the Cuillin climbing. Very few people have had the privilege to get such an insight into these mountains as he did whilst researching the book for over 8 years.
Teaching climbing skills is Mike's forte. From tips on how to scramble safely to techniques on steep ice there is always something for customers to learn. "Teaching the skills not only makes my job more rewarding but also makes everyone far safer."
Abroad Mike favours the High Tatra mountains in Slovakia. No helicopters, no bolts and resembling an oversized Cuillin it is home from home. He has made ascents of many Alps including the Matterhorn and Eiger.
Mike is an IRATA qualified rope access technician having worked on oilrigs, shopping centres, railways and even the Skye Bridge. With customers he uses these skills for rigging huge abseils or Tyrolean traverses across the sea as "alternative wet weather activities".
Mike knows his natural history pretty well. He even has a good stab at explaining the complex geology of this dramatic island, but always welcomes corrections.
When he first moved to Skye (1993) Mike was heavily involved with production of the best-selling book "The Cuillin". It is a truly inspiring blend of stunning photography, culture, history and mountaineering philosophy: "Living with Gordon Stainforth through the creation of such a masterpiece was a unique privilege of which I become more aware with each climb."
Climbing Highlights
Rock: Lubyanka on Cyrn Las, Snowdonia
Ice: Riders on the Storm, Ben Nevis
Alps: Weissmiess N. Ridge-like doing the In. Pinn. continuously for 4 hours!
Cuillin: The Greater Traverse in 11hrs. 1993. Psych!
Winter Traverse 2001. Three days of pure heaven.
F.A. of The Naked Saltire 1999. The straightest line in the Cuillin.
Abraham's Route (winter variation) 2006. Northern lights to finish too!
Climbing Heroes
John Mackenzie: Born Sconsor 1852. Guided for 50 years. On first ascents of more than half of the Cuillin peaks. Taught & inspired Norman Collie.
Don Whillans: Born Salford 1930ish. Superb climber who told it how it was and couldn't stand climbing bullshit. Proudly never screwed up on the hill.
Favourites
Book: Killing Dragons by Fergus Fleming
Food: A rare sirloin fresh off the BBQ or Taramasalata on toast for breakfast.
Whisky: The Macallan