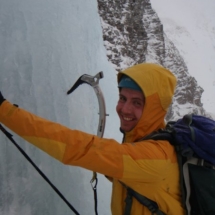 Malcolm is a massive Cuillin enthusiast having been brought up on a diet of climbing winter routes here since he was a school kid. He worked with us in 2010 before being selected for the British Antarctic Survey. He now spends his time flitting between the poles and is always as happy and enthusiastic as ever for adventures in the Cuillin. In addition to his climbing Malcolm is a very good (mad?) paddler. In the past Malcolm has worked for Outward Bound in Aberdovey and Glenmore Lodge.
One of Malcy's guiding highlights was guiding 80 year old Alasdair Macpherson up the In Pinn. Alasdair was brought up on Skye and, as a little boy, had been introduced to the great Cuillin pioneer Norman Collie!!!
Climbing highlights:
Rock:  Monzino route, North tower of Paine, Patagonia – glorious weather with good friends.
Ice: Silver Tear, Beinn Bhan, Applecross – once in a lifetime winter!
Alps:  Frendo Spur, Chamonix
Cuillin: Holiday Bonus, Creag an Eas – new 100m-plus crag just hidden away in a remote corrie somewhere, where else in the UK do you get that!!?
Malcolm warmed to the task of taking me via more adventurous routes and was very patient with me as a first timer on high rock.  I climbed Blaven on the Sunday and found myself leaving the track to take scrambling routes, what have you done to me! MB 2012
Malcolm really was an excellent guide and the level of assistance and reassurance he offered was tremendous. Please pass on our thanks to him along with our best wishes for his Alaskan adventure. GC 2012
Drink: Red Cuillin/Talisker/Tennents if I'm desperate….
Food:  Pizza or Haggis
Hobbies:  Kayaking, kite-skiing, mountain biking