Making an enquiry.
PLEASE E-MAIL US DIRECT ON mike@skyeguides.co.uk WHILE OUR ENQUIRY SYSTEM IS IMPROVED. THANK YOU
Choosing the right option is not always easy and we are happy to direct clients towards the most appropriate ambition. The enquiry form on this page gives us a message that we can respond to at any time of the day. A telephone conversation is often easiest but please browse the website before calling.
For legal reasons clients booking with us must read specific details ABOUT YOUR GUIDES and ABOUT SKYE GUIDES LTD  before completing a booking.
Our InfoCentre has a dozen pages.
Prices are lower down on this page.
The FAQ page answers many common questions.
Please use the simple enquiry form on this page or e-mail direcctly to mike@skyeguides.co.uk. We will then send out Booking Forms and Terms & Conditions.
Telephone
Our landline number 00 44 1471 822 116 is by far the most reliable and you are welcome to call any time between 8am and 11pm. We have limited coverage for mobile phones on Skye so please send SMS text messages if contacting the mobile number 07769 221 500. Voice-mail messages are very unreliable and sometimes take days to arrive.
Summer Activity Prices 2016
Black Cuillin Scrambling including Inaccessible Pinnacle, Munros & Classic Scrambles

These prices are for the services of the guide exclusively for your party. All technical equipment is provided and included in the price.
Black Cuillin Prices 2016. Daily rates for private guiding.
| RATIO/NUMBER OF DAYS | 1-day | 2-day | 3-day | 4-day |
| --- | --- | --- | --- | --- |
| 1:1 | 250 | 490 | 720 | 920 |
| 1:2 | 260 | 500 | 735 | 960 |
| 1:3 | 275 | 540 | 810 | 1040 |
| 1:4 | 300 | 580 | 840 | 1080 |
VAT inclusive prices.
Cuillin Ridge Traverse
This is our "Premium Product", a highly sought after objective that is only suitable for those with exceptional fitness and good mountaineering abilities. On average it takes 32 hours with a rough overnight bivouac to complete and extra days are spent maximising chances of success. You will be vetted to make sure that this product is right for you.
A successful Traverse is only possible in good (largely dry rock) conditions. Dealing with this is complex but our policy is the fairest that we have come up with. The premium price is paid in advance with a refund given if no Traverse attempt is made.
RIDGE TRAVERSE COURSE PRICES 2016
Ratios
3-day course**
(no refunds)
4-day course
5-day course
Refund for no Traverse attempt
1:1
£750
£1100
£1250
£20 per day
1:2
£850
£1150
£1400
£25 per day
1:3
£900
£1250
£1500
£30 per day
1:4
N/A
POA
POA
Price inclusive of VAT, overnight pay for guide on bivouac, technical equipment and evening meal for Traverse. Excludes extra transport costs often necessary.
** Only available to clients with previous Cuillin experience.
Rock Climbing
Daily rates for rock climbing are calculated on a basis of £200 for a single client and an additional £20 for each extra person. This covers anything from fun introduction days to intense learn-to-lead  courses. Tailor-made days for families are available suitable for parties that often have a wide variety of ability and fitness. All technical equipment is provided and included in the price.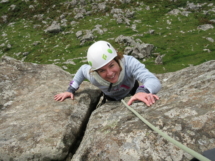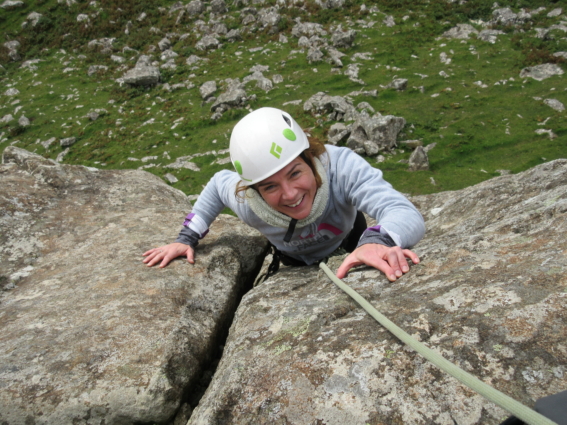 | Rock climbing | 1 Day | 2 Day | 3 Day | 4 Day |
| --- | --- | --- | --- | --- |
| 1 Person | £200 | £390 | £540 | £700 |
| 2 People | £220 | £420 | £580 | £760 |
| Family (up to 4) | £240 | £450 | | |
VAT inclusive prices
Winter Activities 2016/17 season.
There are two distinct styles of outing available:
Winter Mountaineering: At a technical level suited to your ambitions; average 8 hours per day.
Winter Walking: Low technical difficulty in beautiful scenery; average 4-5 hours per day.
Guiding Prices
Guides working our winter courses are all insured for serious winter climbing conditions, essential for all but a small handful of Black Cuillin outings. They are highly qualified professionals commanding a premium wage so our daily rates reflect this but are split between all course participants. Please consult the winter course pages for details including our recommended ratios of client to guide.
Winter Prices 2016/2017
Winter Mountaineering
(Total cost between all participants)
Winter Walking
(Total cost between all participants)
1 Day
£260
£180
2 Day
£510
£350
3 Day
£750
£525
4 Day
£1000
£700
VAT inclusive prices
Winter Accommodation
We have very good local connections with a variety of accommodation providers including bunkhouses, B&Bs and a self-catering cottage. We are happy to make arrangements for you. Any combination of accommodation and days of guiding is available.
Other Services we offer.
Guiding away from Skye
Mainland Mountaineering
We are always happy to arrange a guide for mountaineering objectives on the Scottish Mainland. We instruct and guide on the North face of Ben Nevis in winter with accommodation in the CIC hut often possible. Other popular requests are the more exposed Munros and Tops such as An Teallach, the Forcan Ridge, Aonach Eagach and Liathach. Guiding rates are the same and expenses for the guide's travel time and accommodation are charged at cost price.
Alpine Climbing
Skye Guides works with Frost Guiding to offer a high quality guiding service for any Alpine objectives. Assessments and training done in the Cuillin allow clients to arrive fully prepared for suitable ambitions. We can offer a combined price for training courses on Skye followed by an Alpine course with Frost Guiding.
 TV, photography, camping, nature walks etc.
Prices depend on the nature of the outing and are based on  factors such as the degree of danger involved, numbers in the party and the level of input by Skye Guides Ltd.
Below are some examples of pricing for some more unusual activities we can provide
Photography outing including bivouac for sunset and dawn from Red Cuillin. 1 client. £350
High adrenalin outing for 12 on a Stag do. Tyrolean Traverse and sea-level traversing. £580 (2 guides)
Guide party of 12 through Glen Sligachan from Coruisk following a boat trip approach from Elgol. Geology, natural history and photography. £360
Guide party of 5 along the Trotternish Ridge. 2 days with an overnight camp. £580
Provide Industrial Roped Access safety for film crew in a Quarry. 2 technicians and equipment provided. £750
Guide a coach party of 40 on a short, easy but beautiful walk (2 hour). £320
Natural history walk, 2 clients, seeking otters and eagles (5 hours). £260