With all of our outdoor experience and skills Skye Guides are regularly asked to lead parties, large and small, on walks of different lengths and difficulty including overnight expeditions. We also provide advice and guiding for photographers, naturalists, families, the TV and Filming industry. Special events can be catered for; please just ask.
---
Coastal, Nature and Low-level Walks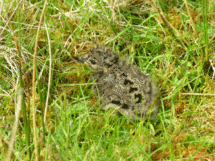 We recognise that a large number of visitors have little ambition to visit the high mountain peaks but wish instead to explore the stunning Skye scenery. Skye Guides offers the services of local natural history experts in order to enhance your outings. They will aim to take you to the right places at the right times to see eagles, deer, otters, whales or dolphins.
Many species of flower are unique to Skye and there is an advantage that they tend not to fly or run away when spotted! With a thousand miles of coastline and a hugely varied landscape, any walk on the island is always a memorable day out.
---
Overnight Expeditions
Caves, tents, bivvy bags and mountain bothies have all been used to give clients a night out in the wilderness of Skye. You could experience sunsets, shooting stars, the Northern lights and magical dawns all from the comfort of your sleeping bag. Whether booked as part of a Stag or Hen party, a specific photographic outing or pure appreciation of the Skye "magic", a memorable time is guaranteed on our Overnight Expeditions. Whisky invariably helps sleeping when in an unusual location! Please telephone to discuss any ideas you may have.
---
Photography
The unique quality of light and scenery on Skye makes it a visual Mecca for the arts community, both amateur and professional.
Mike Lates spent nine months working with the celebrated mountain photographer Gordon Stainforth. His book, The Cuillin is the best-selling photographical result. It is widely regarded as the authorative text on both the historical and modern climbing in the best mountains in the British Isles. Guiding and advice on lighting, timings and positions for stunning photography results are available at Skye Guides. Just ask.
---
TV and Film
IRATA (the Industrial Roped Access Trade Association) approved safety systems are available for directors and producers with an eye for more ambitious film projects. Location advice, sourcing of props and extras and location management is available at Skye Guides.
Filming CV
BBC Alba; Bannan soap opera pilot. September 2013  (Cast & crew safety, props and stunt advice)
Pinewood- Prometheus January 2012
Red Lion Films; Jack the Giant Killer – July 2011
Location advice, Cuillin & Trotternish
Kennedy Productions. Scottish Extraveganza – August 2008
Safety and access work to position & protect a piper. Eilean Donan Castle.
BBC "Inland and Upward" with Griff Rhys-Jones – September 2006
Casting, location advice, guiding and portering.
YOUNG FILMS – SEACHD (Gaelic language. 120 minutes) – June 2006
Filming on & around the Inaccessible Pinnacle at 3000 feet. Crew safety, stunts, & prop provision.Torrin Quarry used for close-up scenes. Roped access for crew, actors and stunt doubles.
YOUNG FILMS – SEACHD (Gaelic language. 120 minutes) – Winter 2006
Filming on & around the Inaccessible Pinnacle at 3000 feet. Crew safety, stunts, & prop provision.
YOUNG FILMS-FOIGHIOINN (Gaelic language. 15 minutes) – Winter 2005
Filming on & around the Inaccessible Pinnacle at 3000 feet. Crew safety, stunts, & prop provision.

OUTSIDE MAGZINE
Biggest outdoor activity magazine in US. Munros article – October Edition 2004
Interview, guiding and location advice.
T.F.1, (Television Francais 1)
LIFE ON SKYE OUTSIDE THE TOURIST SEASON (Documentary) – December 1999
Action shots & interview about guiding. Location and personnel advice for rest of documentary.
BERGHAUS – July 1999
Guiding, modelling and location advice. Still shots for clothing adverts.
STIG FILMS (Denmark) – April 1998
Technical safety support and stunt doubling at Eilean Donan Castle. Children's period drama.
VAUXHALL – July 1997
Location advice and prop provision for FRONTERA still shots.

NISSAN – May 1993
Stills and movie for new Nissan 4* 4 vehicle. Source motorboat and provide location advice.
GORDON STAINFORTH "THE CUILLIN" – May 1993–April 1994
Main assistant in production of this classic modern "Bible" of the Cuillin of Skye.
---
Skye guides employs professional mountain guides and/or IRATA-qualified rope access technicians in all work at height or in wilderness locations to cover Health and Safety regulations.