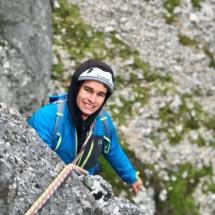 We're very happy to welcome Tim for his second season with Skye Guides. As modest as the rest of the team, Tim is another 'proper climber' who has gained his paper qualifications easily on the back of his personal experience.
Tim graduated in geology and earth science from Glasgow University last year but always knew that being an instructor is what he really wanted to do.
He has already enjoyed traveling on expeditions to obscure parts of the world to climb big peaks in Kyrgyzstan, Pakistan and Nepal.
Tim currently holds the MCI qualification and is now on the British Guides scheme.
" Tim was fantastic, so calm, patient and informative and we felt really secure in his company. Had a fab 3 days and managed 8 Munros including the In Pinn which is more than I had expected." Stacey McEwan July 2020
Climbing Highlights
Winter – ascent of The Needle on The Shelterstone (big day out) or an incredible moonlit night ascent of Curved Ridge on The Buachaille.
Summer – Cragging with a big group of mates at Elgol. 6 ascents of Mother Pride that day!
Alps – An ascent of The Walker Spur on The Grandes Jorassess (amazing/freezing Bivi sunset).
Climbing heros
Mick Fowler – for his love of adventurous routes in the mountains.
Favourites
Book – currently reading The Great Game which is an amazing insight into a forgotten part of the world. Many Michael Morpurgo books when I was younger.
Music – Love most things from Scottish trad to Pink Floyd, Chic to 90's house.