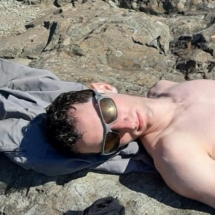 Delighted to have Pete back again this year. Last season he was at the helm of the "keen as mustard" team using every minute of his time on the island for maximum fun.
Pete grew up in Inverness and his mountaineering apprenticeship was spent in the Cairngorms and Northwest Highlands. Studying Marine Biology in Aberdeen was a great excuse to join a mountaineering club where at the weekend he could develop his rock and winter climbing.
Fast forward 8 years and he's spending half of the year in North Wales where the crags are a bit closer to the road, Still, for better of for worse he reckons the Scottish Highlands are entwined in his DNA (along with a vague tolerance for midges) and the other half of the year is very much committed to the their wild ruggedness and infinite possibilities for adventure!
Pete values the relationships fostered in the mountains and on the crag. As much as he loves the physical and mental challenges on offer (and despite his Scottish stoicism!) for him ''its about the people, really. Things would get dull if it was all about the summits, grades and timings. The wildlife, weather and geology. The history and culture of the places.. Its all integral to the day out .''
Memorable experiences:
First bivvy on The Ridge as a teenager.
Guiding people on the Cuillin.. really satisfying even when the weather is difficult.
The 'out there' feel of a chunky winter day out.
Sea cliffs.. intimidating, steep and adventurous. Winter sun traps!
Crack climbing! First ascent of 'Wildwood' with Mike Lates was a laugh.
The feeling of being immersed in a long, committing route. The Cuillin and Ben Nevis. Classic Alpnism.. Focus, smooth movement and excitement!
Admires: Impressed by people getting 'stuck in'. Commitment, modesty and enthusiasm.
Eats: Eggs! Fresh fish and veg. High butter/cream content..
Drinks: Tea. I get excited in 'The Misty Bottle'.. Skye's answer to Aladdin's Cave. Weird beer, red wine, single malt.
'Thanks for your skilled guiding, and well-judged level of support, for us two novices on the Cuillin Ridge on Tuesday.
We were incredibly blessed with the weather, weren't we?
I found it an unforgettable day…. seeing Loch Coruisk in that clarity for the first time from the ridge was stunning. Full of joy. And I loved the swim on the way down too!'
Roderick and Alison
'Just to thank you again Pete for our two days with you – great learnings and wonderful experiences. We felt so comfortable with your advice, counsel and encouragement! '
Richard, Tim and Mike