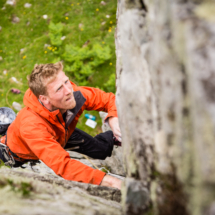 Dave has been working on Skye for 8 seasons and we are very glad to have him back in the team for the whole season once again. Despite a bit of ground getting in the way when he was speed-winging last September Dave was back on his feet after 2 weeks and up mountains and climbing by new year. I'll leave him to add in the humour for you..
As a guide Dave's enthusiasm and sense of fun in the mountains is infectious. He holds the MCI and WMCI awards, but so do lots of people. In addition to his knowledge of the Cuillin terrain Dave's previous work with disadvantaged kids through Venture Trust makes him a great teacher, able to empathise at all levels of experience.
Originally from North Wales, Dave moved to Scotland in the winter of 2005 and has stayed ever since, he has climbed all over the country and manages to get out rock climbing more than you would think is possible for such a wet country.
His first experience in the Cuillin was as an inexperienced youth in 2006 when he completed a Traverse. This experience was a major learning moment and a massive inspiration in his development.
Dave comes to Skye in all seasons for different activities from climbing to white water kayaking and speed flying, but he comes every summer as a fully qualified instructor. Dave has never lost his passion for being in the mountains on Skye.
A Few of Dave's Favourite Things
Climbing – El Cap California
Skye – Climbing at Staffin and Kilt Rock. Speedflying at the North End. First known descent of the Rha Burn and the Falls of Rha in Uig
Likely to: Talk for hours about loads of stuff.
Music – Electronic Dance Music
Food – Food is Fuel
Whisky – Kilchoman Machir Bay
'I just wanted to thank Skye Guides, and in particular Dave Fowler, on behalf of myself and my two walking partners, Rory Boyd and Ben Morison for the Ridge Traverse. Dave was absolutely superb and we honestly can't talk highly enough of him. He managed us along the Ridge so professionally and we all really enjoyed getting to know him during our two days. The whole experience was quite simply awe-inspiring and being with Dave from start to finish was a real privilege and pleasure for each of us. So please do pass on our heartfelt thanks to Dave (from me, Rory and Ben as well as our wives and families for ensuring our safe return!) – he is a real asset to Skye Guides.' Jamie Boyd 2018
'A great big thank you to Dave who managed to get me up and down the In Pinn on Monday 27th May despite my feeling unwell. He is a top bloke.' C. O'Neil 2019