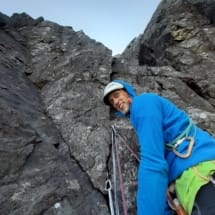 Dan joined the team in 2021 with a long stint in the summer sun. With seemingly boundless energy and enthusiasm his alpine-practised skills gave our guests inspired outings and his fellow guides some memorable days on hot dry rock routes.
His home is in Grindelwald with the Eiger in his back garden but, as a trainee on the British Guides scheme, Dan will be in Scotland until Summer 2022 but plans to make Cuillin work an annual part of his guiding career.
"I just wanted to send you a quick email to say that I had an absolutely fantastic few days in the Black Cullin with Dan. He was a great guide – I had complete faith in his abilities and felt completely safe with him throughout the three days. He also kept me entertained and was great company. This trip exceeded even my highest expectations. We achieved so much over the last few days. We climbed a number of the Munros but I also feel like Dan helped me improve my climbing and my confidence when climbing. Honestly, a truly great guide!" LD June 2021.
Highlights and favourites
Cuillin- The Power of Now E4 6a. First ascent
Winter-
Alpine-
Drink-
Food-
Other-