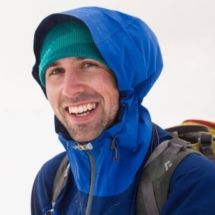 Caspar is back for his 5th season with us this year. Originally from the South West, Caspar splits his year between time working in Scotland and Antarctica and climbing around the UK and Alps. Since graduating from the University of Edinburgh he has become dedicated to a life of guiding and climbing and can usually be found heading off somewhere in his van for a route, trip or work.
Caspar holds MCI and WMCI qualifications
Climbing –
Rock: anything at Gogarth, Chamonix granite, sunny Moroccan new routing.
Winter: Crypt Route/Point 5.
Alpine: Classics like the Kuffner, Mt Maudit and the South Face of the Meije.
Skye – Traverse Days! Cheesy but true.
Books – Sadly it's almost always a climbing guide or climbing related literature.
Music – Parov Stelar and London Grammar at the moment.
Food – Mainly avocados
Drink – Gin