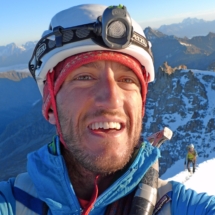 "Just wanted you to know my wife and I had a spectacular day yesterday.  Steve was absolutely brilliant in all regards!" John Pao 2014
Former Royal Marine and security consultant Steve turned Outdoor Instructor in 2010 and is back for his 3rd season with Skye Guides. He has travelled to many far flung places but now lives in Fort William.
In addition to annual trips to European Alps he has attempted unclimbed peaks in remote corners of Nepalese Himalaya and is eager to go back! Steve is a strong believer in getting something done in any weather, especially during winter and loves the battle; "there is no better feeling than getting down having 'survived' a day on the hill."
He's very passionate about the Cuillin and has high ambitions to run the Traverse in the near future.
Rock: On the Beach, Glen Nevis
Ice: Point Five Gully, Ben Nevis
Mixed: Directosaur, Lost Valley Buttress
Alpine: Traverse Aiguille Dorees
Heroes: Steve House, Jonny Copp
Book: Bounce, Mathew Syed
Food: Christmas Cake
Drink: Jura