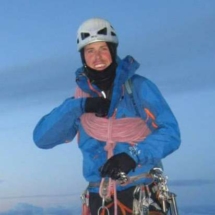 Mike is a well known face in both Snowdonia in summer and Scotland in winter working with Plas y Brenin most of the time. This is his 4th season working with Skye Guides. Modest and understated he exudes and instills confidence in his clients with a calm, good humoured nature.
Mike started climbing and mountaineering as a child with his dad then did a degree in  outdoor education at Charlotte Mason college in Ambleside.
Overseas he has had trips to Yosemite, Himalayas, Alps and India and moved to North Wales 2013 for the amazing trad climbing and started work for PyB. He has his MIC and is now on the British Mountain Guides scheme.
Climbing Highlights:
Rock: the Cumbrian in Eskdale. Or the West Grat on the Salsbitchen
Ice/Mixed: probably Blood Sweat and Frozen Tears in Torridon or Central Icefall and Cascade after work.
Cuillin: first Traverse with my dad.
Other Hobbies:
Ski touring, surfing,  painting.
Food: scone jam cream.
Book: Resurrection