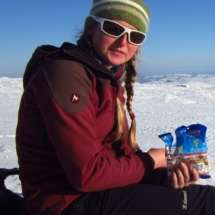 We're very happy to have Lou back with the Skye Guides team for another season. Her passion for the Cuillin and bubbling enthusiasm are obvious to everyone while her modesty disguises a strong character and great mountain skills.
Lou is an MIC holder, the highest UK award for an instructor.
Originally from sunny Devon, Lou has been working and living in Scotland for over 7 years. In addition to giving mountaineering training (summer and winter ML) Lou has taught sea-kayaking on the West Coast, canoeing down the Spey, and works with some of the national centres delivering rock climbing and winter climbing courses.
Her passion for the outdoors started as a kid skiing in the French Alps then progressed through walking and scrambling in the UK before discovering climbing. Since then she has climbed rock and ice routes all over the UK and has spent  a number of summer alpine seasons in France, Switzerland and Italy. Amongst the highlights were ascents of the Cassin on the Piz Badile on Mont Maudit, Rebuffat Terray route on the Aiguille Du Peigne, the Aig Noire de Peutrey, The West Grat on the Salbit.
Favourites-
Rock: The Needle – Carn Etchachan
Ice: Psychedelic wall – Ben Nevis
Alps: The Cassin on the Piz Badile, fantastic climbing and my first north face route with my favourite climbing partner.
Cullin: Ridge Traverse day.
Climbing heros:
Lynn Hill – we have exactly the same size hands.
Food: I love avocados, I would give up chocolate for them.
Drink: Water or Vin rouge
"Thank you for our guiding on Skye this past week.  We had an amazing time and Lou was absolutely fantastic.  Not got a single bad word to say about her, she is a credit to Skye Guides and would love to be guided by her again in the future!" AD 2014
"Just a short note to say you have one very happy client after my trip up Gillean and Bhastair with Lou. It was just a brilliant, brilliant day. Lou was excellent and we all got something out of it, which as we all had different experience and capabilities was a great testament to her and the Ridge!" SR 2013