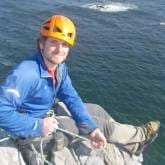 Hailing from Orkney Ian moved to the Highlands in 2009 to get closer to the mountains and has been working as an instructor for the past 7 years.
Ian was our "main man" in the 2014 season, working solidly from April through to September. Since then he has spent a year on the Assistant Instructor scheme at the Brenin.
Ian has climbed extensively throughout Scotland and the rest of the UK. He has enjoyed 4 summer alpine expeditions and will be returning again in mid-summer. Ian has also led overseas expeditions to Iceland and Romania.
Climbing and mountaineering are his main passion but he enjoys teaching mountain biking and water sports as well.
MIC and MIA qualified.
Favourites:
Whisky – 18 year old Highland Park of course!
Music – Just play me something that really cooks!
Food – Yes please.
Climbing highlights:
Rock – everything by the sea. Sunshine, sea air, perfect!
Ice – "Orion Direct" in the spring
Mixed – "The Seam/Seamstress" at midnight by head torch. On purpose I think I should add! 🙂
Cuillin – Traverse days.
Alpine – Reaching the top of my first 4000m peak, Mont Maudit, via the Kuffner route.