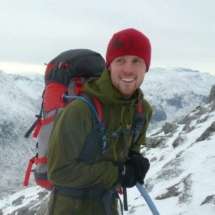 Andy joined the team in 2013, working right through from the heavy snows at Easter, hot sunshine of July to the Autumn colours of September. He came to us after spending an intense year of training at Glenmore Lodge, and is now a fully fledged MIA holder.
Originally from Northern Ireland, Andy studied in Edinburgh. He emerged from university with an English degree but promptly decided not to use it, having concluded that climbing is more fun than reading books (which he still enjoys in moderation), and moved north to the mountains.
His first Skye trip was back in 2005, which he admits was a steep learning curve. Serving his Cuillin apprenticeship over the following years culminated in a successful Traverse 5 years later, the first of many. As a leader he has a style that is both laidback and flexible to ensure it's good fun as well as safe.
"Please extend our thanks to Andy for 4 days of patience with us last week. I'm crap with exposure but Andy made me feel as safe as he could. He was also very patient with Kenny who is rubbish over rough ground. We bagged all the Skye Munros in stunning conditions. Thanks again, Brian and Kenny."
I wanted to drop you a quick note to say thank you very much to Andy for three wonderful days on the hills last week.  My friends and I had never used guides before and it was a great success with excellent company.  There is no way we could have achieved our goals without you and we enjoyed every minute. –Peter
I'm just writing to say how much we enjoyed our day of hiking last Sunday. Andy was a fantastic guide: calm, relaxed, professional and good company. –Ian
A Few of Andy's Favourite Things
Climbing – Positive Vibrations (Incredible Hulk, California)
Skye – Waking up at the bivi to another stunning Cuillin dawn.
Books – It should be something literary but really it's the climbing guidebook for wherever I am right now.
Music – Clicky mimimal weirdness, blues, ska…
Food – Something spicy
Whisky – Lagavulin