2, 3 or 4-day Open Courses or Private Guiding.
Skye is the place to come this winter!
Fantastic conditions in the past few seasons have led to unprecedented interest in what the Cuillin can offer in winter.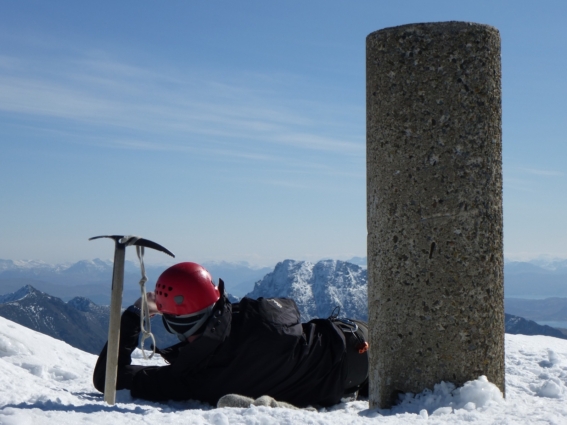 Skye Basecamp is our very own brand new climbers' hostel where clients can stay to get the full Skye Winter climbing experience. Powerful hot showers, comfortable beds and a specialised drying room are the key attractions but you'll find the kitchen superbly equipped and Chesterfield couches hard to climb out of!

We're right in the centre of Broadford where there are numerous options to eat out and stock up. The eastern Cuillin giant Bla Bheinn is only a 10 minute drive away. Sligachan is only a 25 minutes drive and the northern Cuillin here provide the most reliable winter climbing on the island.
Our experience is that clients in winter revel in mixing and sharing a whole lot more than in summer so we are offering open courses for the very first time. It gives a chance to meet like-minded people, make new friends and also keeps prices well down. Individuals or small groups can still book their own private guide and benefit from reduced rates in our luxury hostel accommodation.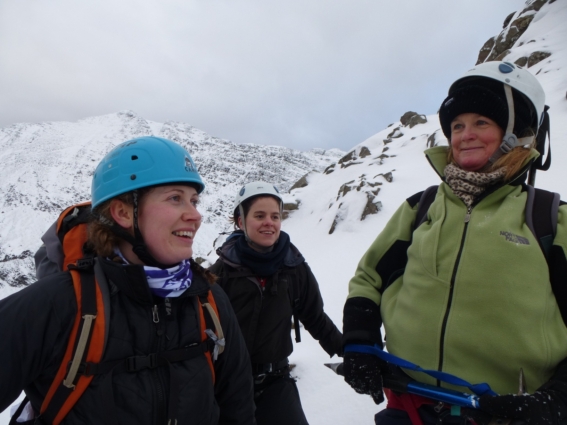 PRICE LIST FOR COURSES WITH ACCOMMODATION
(Prices for guiding only on Prices and Bookings page )
Number of guiding days and bed nights
Basecamp accommodation +
1:1 Private Guiding
Basecamp accommodation +
INTRODUCTION TO SKYE WINTER 1:4 max
Basecamp accommodation +
CUILLIN RIDGES AND ROUTES 1:2 max
GUIDING ONLY.
1:1 prices. Add £25pp
per day for extras
1 day of guiding with up to 2 nights in Basecamp
£280
N/A
N/A
£250
2-day course with 3 nights in Basecamp
£545
£275pp (min 2 clients)
£320pp (min 2 clients)
£490
3-day course with 4 nights in Basecamp
£795
£395pp (min 2 clients)
£465pp (min 2 clients)
£725
4-day course with up to 6 nights in Basecamp. Allows rest day or uses best 4 days.
£1045
£545pp (min 2 clients)
£645pp (min 2 clients)
£960
COURSE DETAILS
Please note- the biggest skill in winter is adapting to the conditions.
The outline of the courses below and sample routes can only give a style of course on offer. They should not be taken as any form of fixed agenda.
Introduction to Skye Winter (2, 3 or 4 days). 1:4 maximum ratio, minimum 2 participants
An "immersion" course suitable for those with good hill fitness and sense of adventure.
Skills will be learnt "on the hoof"  on a different objective peak each day giving a wide variety of terrain and snow conditions.
– How to fit and use crampons – when to put them on and take them off
– Movement skills on snow
– Use of the ice axe
– Snow analysis and avalanche avoidance
– Route selection
– Use of the rope in winter
– Emergency snow shelters
Evening seminars in Skye Basecamp–
– Diet & nutrition for winter walking
– Choice and use of equipment for the winter environment
– Mountain navigation
– Emergency procedures
CUILLIN RIDGES AND ROUTES (2,3 or 4 days). 1:2 ratio.
This course is aimed at clients who want to tackle the more technical Cuillin peaks and ridges or climb gullies and faces.
Who is it for?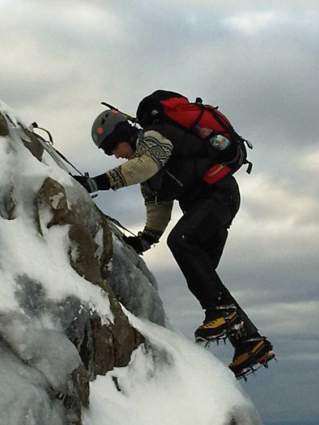 Specifically for those looking for graded winter mountaineering routes. Suitable for winter walkers with ambitions, winter climbers or alpinists.
What instruction is given?
Again, skills will be learnt "on the hoof"  depending on experience, ambitions and conditions but will undoubtedly improve your
– mixed, snow and ice climbing techniques
– belaying methods, ropework, winter gear placements
– alpine roping skills
Clients may have the opportunity to develop leading skills on grade I and II routes if the guide is happy with your skill set.
Click to see the full beauty!